Easy recipe to prepare delicious homemade "bollos preñaos

The bollo "preñao" is a typical culinary specialty of some regions of Spain, especially Asturias and Galicia.
It is a small bread filled with chorizo, bacon and sometimes hard-boiled egg. If you want to prepare a delicious bollo "preñao" at home, here is a simple recipe. Its name comes from the appearance of the bun when it is cut in half: the filling is reminiscent of a fetus in the womb. It is believed that the origin of the bollo "preñao" dates back to the Spanish Civil War, when food shortages led to the creation of dishes based on simple and inexpensive ingredients. Today, the bollo "preñao" is a typical gastronomic dish that can be eaten at any time of the year.
If you want to prepare a delicious bollo "preñao" at home, here is a simple recipe. Dare to cook this delicious culinary specialty and surprise your guests with a traditional dish full of flavor.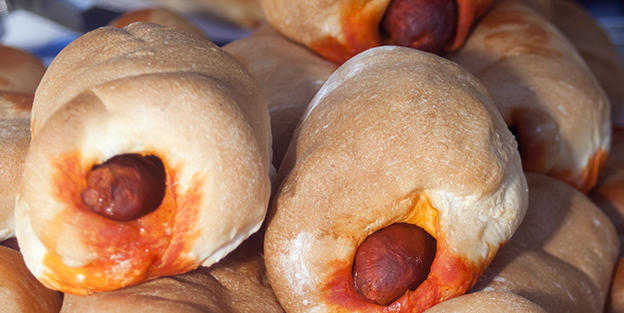 Ingredients:
To make the bread:
500 grams of wheat flour
25 grams of fresh yeast
250 ml of warm whole milk
50 grams of melted butter
1 egg
1 tablespoon of salt
For the filling:
1 fresh achorizo extra or spicy achorizo extra
100 grams of sliced bacon
2 hard-boiled eggs

Preparation:
In a large bowl, dissolve the fresh yeast in the warm milk. Add melted butter, egg and salt. Mix well.
Add flour a little at a time while kneading the dough with your hands or a stand mixer. Continue kneading until the dough is smooth and elastic.
Let the dough rest in a warm, draft-free place for about an hour, until it has doubled in size.
Preheat oven to 200°C.
Cut chorizo into thin slices and cook bacon in a pan until crisp.
Divide the dough into equal pieces and shape into balls. Flatten each ball with the palm of your hand to form a disk. Place a slice of chorizo, a slice of bacon and a piece of hard-boiled egg in the center of each disc.
Close the edges of the disc to form a ball and place each "preñao" on a greased or parchment paper-lined baking sheet.
Brush each bun with beaten egg and bake for about 20 to 25 minutes, until golden brown.
Serve the buns warm and enjoy.